Adding Blog Stats and Visitor Tracking to your Tumblr Blog with expo-MAX Real Analytics

Tumblr is all about a no-frills, content driven blogging experience. But even so, you can still benefit from a powerful blog stats tracking tool. Although this capability isn't built-in to Tumblr, you can add website traffic analytics to any Tumblr blog with expo-MAX Real Analytics. expo-MAX Real Analytics is a free, web-based traffic analysis and blog stats tool that collects valuable data about your visitors without disrupting the clean look and feel of your Tumblr blog. expo-MAX Real Analytics gives you:



Comprehensive search engine and keyword reporting. Get detailed information about the search terms readers use to find your website. Plus, see how your Tumblr blog ranks for each keyword—including page and position—for all the major search engines.


Visitor trending and bounce rate information. Find out which posts encourage readers to subscribe, read more or exit your blog. expo-MAX Real Analytic's Top Content and Visitor reports help you fine tune your content to boost reader loyalty.


Usability reporting for site design. Discover which browsers, screen resolutions and operating systems that your readers use so you can optimize their viewing experience.


Referrer reports and backlink data. See which websites are linking to your blog and find out which posts and content get the most backlinks.

Setting up expo-MAX Real Analytics on Tumblr is simple, easy and takes just a few minutes.

1. Sign up for your free expo-MAX Real Analytics account.
2. From the Analytics Settings menu, Click Add Website and Type your domain name in the box provided. Click Save website.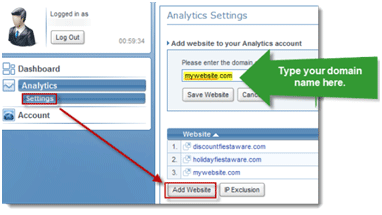 3. Highlight the code and press CTRL-C to save it to your clipboard.





4. Log in to your Tumblr account. Click Customize on the right-hand menu.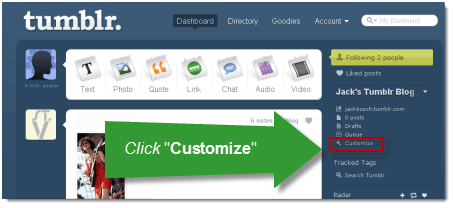 5. Click Info. In the box that appears, paste your code in the field labeled "Description." Click Save + Close when you're finished.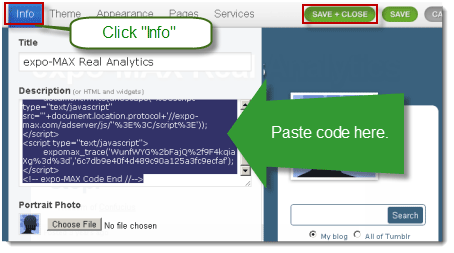 6. Return to your expo-MAX Real Analytics account and go to the Analytics Settings page. Click Verify Website.





7. Your website should now have Active status.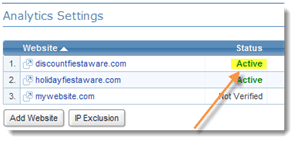 Congratulations! You are now tracking visitor data and traffic stats from your Tubmlr blog. expo-MAX Real Analytics begins collecting data immediately, so you'll be able to begin analyzing visitor trends, search terms, keywords and more right away. The expo-MAX Real Analytics code will be embedded on every single page and post on your Tumblr blog.
| | | |
| --- | --- | --- |
| | Sign Up Now | |