Windows 7 is gaining ground at the expense of Windows Vista
Windows XP has been and continues to be the most dominant operating system for personal computers. Vista launch in 2006 has failed to dethrone Windows XP as a primary OS for Intel-based workstations. Market penetration of Windows Vista has peaked at around 30% in 2009, compared to an almost 60% user base of its predecessor. That came as troubling news for Microsoft to swallow, considering the fact that virtually every new PC has shipped with Windows Vista pre-installed for full 3 years. Vista's commercial failure was compared by some to a Windows ME fiasco.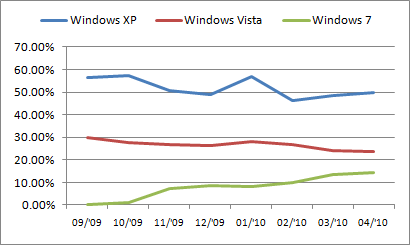 Welcome Windows 7 High profile launch of Windows 7 on October 22, 2009 started a steady trend of PC owners upgrading their operating systems. Windows XP took an almost 10% hit the very first month Windows 7 was launched bypassing Vista upgrade, indicating public acceptance of Windows 7 and raising its market share from 1.2% in October to a whopping 7.34% in November. Interestingly initial migration from XP to 7 has stopped in December and there has been no statistically significant reduction in XP user base since. Vista on the other hand has been consistently ditched by its users and replaced by Windows 7 reducing its user base by a quarter in the first 6 months since the launch in October. It has become evident that Windows 7 has had an impact on both XP and Vista usage. Recent trend indicates that Windows 7 will overtake Vista long before XP and it is most likely to happen sometime during the second half of 2010. What's less clear is how long it will take 7 to dethrone Windows XP. Wide acceptance of Windows 7 suggests that it is likely to become the dominant operating system, replicating the success of Windows 98 and XP. Windows XP usage will also inevitably decline as more users switch from 32 to 64 bit operating systems, further increasing the role of Windows 7. It is expected that software developers will ditch 32 bit code in the not so distant future creating compatibility issues with older operating systems, like Windows XP. What is impressive is that an 8 year old OS in XP still remains to be the frontrunner in the OS market. It is still unclear how long this would remain the case, but what is inevitable is that Windows 7 will become the operating system of choice and will remain such for years to come. This article is based on the traffic data collected by Real Analytics, a free enterprise class real time website traffic statistics solution provided by expo-MAX.


expo-Max™ Home | Advertiser Solutions | Publisher Solutions | Website Traffic Statistics | Zip Code Atlas | Listing.ca | MortgageCalculator.ca | Festival Condos
News | Documentation | Frequently Asked Questions | Screenshots | expo-MAX on Twitter | Terms of Service | Privacy Policy | Refund Policy | Contact

Copyright © 2021 expo-Max Inc.
All rights reserved.


expo-Max and its derivatives are a property of expo-Max Inc. and may not be used
without writtent permission or consent of expo-Max Inc.



This site is PCI compliant with:
This site supports the following browsers:
Firefox
Safari
Chrome
Explorer
Opera