Nokia is working on an iPad rival
The tablet market that was quite nascent for some time now has been bursting with impressive new entrants lately one of the most popular and awaited one being the iPad. From JooJoo to HP Slate, the new internet tablets have made their mark in the gadget industry and their popularity has been quite overwhelming. As all popular manufacturers are trying to cash in on the tablet popularity, Nokia too is said to be having talks about bringing out a rival for the iPad.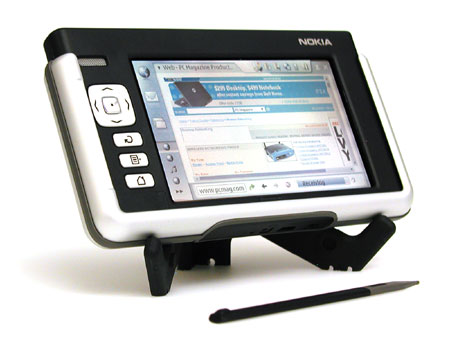 Nokia already has brought out non cell-phone devices that have tablet like functions like the Nokia N770. Product lineup includes other devices like the N Series which combine the features of a cell phone and a tablet. Nokia has always brought out well designed, well functioning sturdy devices and should they launch the iPad rival as they appear to be doing, it is sure to be a success. Even the prices of Nokia devices are more affordable when compared to Apple products so the launch will take advantage of the lower end of the market. What is revolutionary according to some reports is that Nokia is considering equipping the device with Windows 7 as its operating system. Other reports have suggested that Nokia and Intel are jointly working on the MeeGo OS and that they may actually bring out a fully fledged tablet into the market with this OS. If it does work on MeeGo, it will have to have a touch screen feature and Nokia will be sacrificing x86 compatibility over battery life running ARM instead of Intel processors. There are a lot of speculations about the development since there isn't a lot of information coming directly from the manufacturer. Nokia has been on the forefront of mobile technology for a long time and it is imperative that it brings out something to rival the iPad, making it another reason that makes the rumors of the iPad rival in the works sound true. As the market is showing a lot of interest in iPad and other portable tablets, it is quite clear that Nokia is not ready to sit still and watch the market divided by rival companies. Factual information about the Nokia's rival to iPad is not out yet but this information has been released by a source close to the company. It has been told that the Nokia's rival to the iPad may come into the market by the end of this year. If Nokia doesn't make it happen in a timely fashion, it may miss the opportunity to cash in on the sales as public interest in internet tablets is on an all time high. Whether Nokia does what is speculated, it is clear that there will be a lot of manufacturers coming forward with iPad-like devices in the near future.


expo-Max™ Home | Advertiser Solutions | Publisher Solutions | Website Traffic Statistics | Zip Code Atlas | Listing.ca | MortgageCalculator.ca | Festival Condos
News | Documentation | Frequently Asked Questions | Screenshots | expo-MAX on Twitter | Terms of Service | Privacy Policy | Refund Policy | Contact

Copyright © 2021 expo-Max Inc.
All rights reserved.


expo-Max and its derivatives are a property of expo-Max Inc. and may not be used
without writtent permission or consent of expo-Max Inc.



This site is PCI compliant with:
This site supports the following browsers:
Firefox
Safari
Chrome
Explorer
Opera