Lala Out, YouTube Music In?
The shuttering of Lala was a dark day for music discovery. The intrepid cloud-based music website allowed users to listen to virtually any song imaginable once for free—legally, too. The service was an amazing accompaniment to record reviews (Pitchfork included a Lala player with each review) and was a risk-free way for users to give new artists or albums a try without the frustration of the 30 second clips featured on Amazon and iTunes. Now that Apple bought it up and shut it down, there's a gaping void in the music discovery realm. That void has always been partially filled by YouTube, where many a user would upload authorized (and more often than not, unauthorized) tracks from popular artists. From music videos to pre-release singles without accompanying video, YouTube has been a destination for freebie one-off listens. Now, it looks like YouTube is stepping up this utilization and making it official.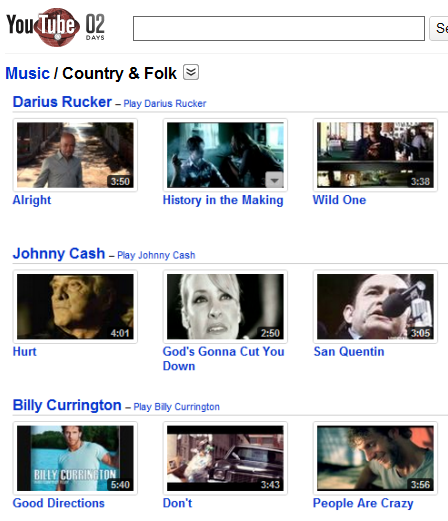 YouTube.com/music is YouTube's brand new music discovery interface. On the front page, it pulls together hot hits and popular genres and suggests a number of legitimate music videos. And, of course, when you play the song you have the opportunity to purchase the song or album. Users can also queue up songs, entire genres or playlists. For example, if you want to listen to only Country & Folk tunes or if you'd like to enjoy an hour of Johnny Cash videos, it's easy as clicking the little "Play" link. None of these features are fundamentally new to YouTube. Playlists and suggested videos have existed for quite some time. But now, YouTube is exerting its identity as a bona fide music discovery tool. It's rudimentary now—but the potential for YouTube Music to evolve into something like Lala is incredibly viable. There have already been Lala contenders—including Napster, Rhapsody, MP3tunes and MOG. But these services didn't have quite as user-friendly of a pricing structure as Lala. Lala had the advantage of allowing users to peruse tunes without paying a monthly fee and up to a point, without even registering. This is the same key advantage that YouTube's accessibility brings. It's the perfect place to stumble upon during a moment of procrastination. But then, the ease and compulsion of the music discovery interface draws users into browsing songs and artists for hours—just like we already do with videos.


expo-Max™ Home | Advertiser Solutions | Publisher Solutions | Website Traffic Statistics | Zip Code Atlas | Listing.ca
News | Documentation | Frequently Asked Questions | Screenshots | expo-MAX on Twitter | Terms of Service | Privacy Policy | Refund Policy | Contact

Copyright © 2023 expo-Max Inc.
All rights reserved.


expo-Max and its derivatives are a property of expo-Max Inc. and may not be used
without writtent permission or consent of expo-Max Inc.



This site is PCI compliant with:
This site supports the following browsers:
Firefox
Safari
Chrome
Explorer
Opera