How and Why You Should Get an iPhone App for Your Business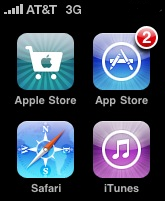 Business growth? There's an app for that—it's your own. Not only can an iPhone app help you attract new customers, improve customer service and create revenue opportunities, having an app for your business is quickly becoming par for the course. At this years Consumer Electronics Show (CES 2010), Walker Fenton of NewsGator likened the essentiality of iPhone apps to business websites. Ten years ago, savvy businesses were setting up professional websites. A few years ago, the businesses started swarming into social media. Now, it's the smartphone app. The other big driver for getting your business an app of its own is how easy and affordable it is. Most developers charge anywhere from $6,000 to $8,000 to put together a customized app for your business. This quote can range higher if you want more sophisticated features—such as location-enabled notifications and social features—but on the flip side, if all you want is your business's logo in the App Store and some basic functionality, you can get an app up and running for as little as $2,000. Once it's all ready to go, it takes the iTunes App Store about 2 to 3 weeks to get it approved and your live. So where do you begin? It's fairly simple. Here's what you do:

1. Choose a Platform This is a tough one. In spite of this article bearing the word "iPhone" in the title, you shouldn't automatically choose iPhone as your platform. iPhone seems to be the sexiest smartphone on the market, but it's not quite the dominant platform and all signs point to further diversification towards Android smartphones, Blackberries, Symbian phones and perhaps Windows 7 phones. So, consider your audience. One way is to simply ask your customers via a survey: "what kind of smartphone do you use?" But it's even easier to just peak at your traffic reports. Pay attention to the browsers on the visitors report and you can see what kinds of devices your readers are using.

2. Decide on Functionality The developer you hire will likely have some guidance here, but it helps to have a vision before you pick up the phone. It's also important you've already completed step one, because that will determine what is possible and whom you should contact to make it happen. The functionality of your app should somewhat mimic what your website does while leveraging any opportunity that the smartphone platform might offer. It should also expand upon what the typical smartphone browser can do—for example, if your website relies on Flash or other elements that do not render properly on a mobile browser, reintroduce these features in your app in a smartphone-friendly presentation. With that being said, don't make your mobile app simply a mobile version of your website. For one, these types of apps often get rejected from the app stores. Secondly, you can do that much more easily and cost-effectively by simply creating a mobile optimized version of your website that is accessible via any mobile browser. Beyond the basics, you should consider other features you can offer that are relevant to your business or your audience. Instant sharing via Twitter, Facebook and other social media platforms is a logical addition. You may also want to have regularly updated deals, city guides or other location-aware functions.

3. Get a Quote There are many, many smartphone developers to choose from. You might want to talk to two or three before moving ahead. You might want to check out iPhoneAppQuotes.com, which is sort of like a concierge version of Travelocity, but for iPhone app developers. You could also hit up places like oDesk, RentACoder and eLance. Either way, it's always best to ask to see some apps that they have done before. Make sure they look professional and aren't simply cookie-cutter versions of the same app with customized graphics. You want your app to unique. If you'd rather go it alone, you can develop it in-house. You can sign up for an iPhone developer account for $99. Or you can grab the Android SDK for free. BlackBerry, Symbian and Windows Mobile all have robust developer communities as well.

4. Develop and Publish Once you have your app put together, all that's left is to get it published. Most developers will walk you through this portion and can even host it for you, but if you want to charge money for your app or generate revenue through mobile advertising, you'll want to sign up for your own developer account. Once you get it submitted and approved, then you're live! Easy as that.


expo-Max™ Home | Advertiser Solutions | Publisher Solutions | Website Traffic Statistics | Zip Code Atlas | Listing.ca
News | Documentation | Frequently Asked Questions | Screenshots | expo-MAX on Twitter | Terms of Service | Privacy Policy | Refund Policy | Contact

Copyright © 2023 expo-Max Inc.
All rights reserved.


expo-Max and its derivatives are a property of expo-Max Inc. and may not be used
without writtent permission or consent of expo-Max Inc.



This site is PCI compliant with:
This site supports the following browsers:
Firefox
Safari
Chrome
Explorer
Opera