Google Reveals its Secrets via Wonder Wheel
Google, in its noble quest for usability, is always dropping hints to webmasters for how to get their pages indexed correctly and ranked well. But rarely do they reveal specific details on how the system works. The reasons are obvious—the more you know about the mechanism of the Google algorithm, the easier it is to exploit it (read: spam). Because of this, Google usually limits itself to recommending search engine optimization tweaks by speaking to the spirit of the Google algorithm. One of the latest recommendations was to use related keywords in your SEO efforts in addition to your main keyword. For example, if you were trying to rank high for "Internet marketing books," you shouldn't just stuff your copy with the words "Internet marketing books" like those are the only three words you know how to say. Google encourages webmasters to also use words like "email marketing books" or "affiliate marketing books" and "internet advertising books" since these are related terms that help the search engine triangulate on the subject matter of your website. That's a good tip. But in addition to making that recommendation, Google gave webmasters an even more powerful tool: Wonder Wheel. Google Wonder Wheel is a surreptitious little feature that sits on the left-hand side toolbar and here's what it does: it tells you which terms Google thinks are related. It just flat out lays it on the table. See for yourself by running a Google search on "Internet marketing." Now, click Wonder Wheel on the left. This will pull up a mind map of search terms that Google thinks are related terms.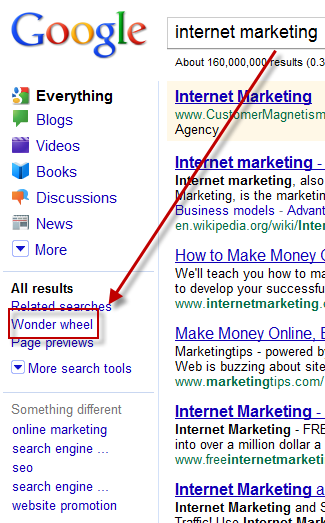 If you click on a related term, it opens up another Wonder Wheel with additional related search terms. Choosing your secondary keywords for your SEO strategy or PPC campaign just got a lot easier.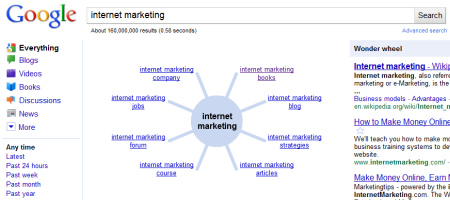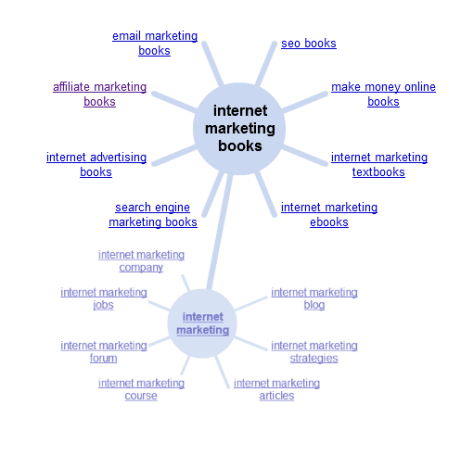 Of course, not all of these search terms are useful—but the best terms are fairly easy to pick out using your best judgment. Oftentimes, if you are building website copy on topic, these terms will be easy to work in naturally. If you're building an entire website, then the Wonder Wheel results can serve as a great starting point for a sitemap or content silo. You should, of course, incorporate Wonder Wheel into your own independent keyword research based on search volume and other factors. But by running your primary keywords through Google Wonder Wheel, you can get some excellent validation on which terms are considered related.


expo-Max™ Home | Advertiser Solutions | Publisher Solutions | Website Traffic Statistics | Zip Code Atlas | Listing.ca | MortgageCalculator.ca | Festival Condos
News | Documentation | Frequently Asked Questions | Screenshots | expo-MAX on Twitter | Terms of Service | Privacy Policy | Refund Policy | Contact

Copyright © 2021 expo-Max Inc.
All rights reserved.


expo-Max and its derivatives are a property of expo-Max Inc. and may not be used
without writtent permission or consent of expo-Max Inc.



This site is PCI compliant with:
This site supports the following browsers:
Firefox
Safari
Chrome
Explorer
Opera